Pakistan and United Arab Emirates have expressed the resolve to further strengthen their historic and mutually beneficial bilateral relationship.
The resolve was expressed during a meeting between Prime Minister Imran Khan and Crown Prince of Abu Dhabi Sheikh Mohamed bin Zayed Al Nahyan in Islamabad on Sunday.
Both sides also discussed various regional and global issues and expressed a complete identity of views on these issues, which serves as the basis of long-lasting and trusted friendship.
Both the leaders agreed to take all necessary measures to deal with matters relating to trade enhancement and decided to form a Task Force to achieve the objective.
Prime Minister Imran Khan thanked the UAE for the generous Balance of Payment support of three billion dollars and said this financial support shows the UAE's continued commitment and friendship with Pakistan.
He also welcomed the UAE's interest in investing in oil, gas, logistics, ports and construction sectors.
Both sides expressed satisfaction over the on-going defence and security cooperation, and vowed to further boost collaboration in the areas of training, joint exercises and defence production.
They strongly condemned terrorism in all its forms and manifestations and expressed the resolve to work closely to root out this scourge.
Crown Prince Sheikh Mohamed bin Zayed Al Nahyan recognized the efforts and unparalleled sacrifices made by Pakistan to eliminate terrorism and extremism.
Prime Minister Imran Khan briefed the Crown Prince on the situation in Occupied Jammu and Kashmir and the plight of Kashmiris.
He also briefed the UAE leader about his government's people centric reform agenda, and the steps taken to promote transparency and accountability at all levels of government.
Prime Minister Imran Khan briefed about the efforts Pakistan is making to support and facilitate the Afghan-owned and Afghan-led reconciliation process. He also appreciated the role UAE is playing by hosting reconciliation talks in Abu Dhabi.
The two leaders agreed to work closely for the lasting peace and stability of Afghanistan.
The Crown Prince expressed his sincere appreciation for the warm welcome and hospitality extended to him and his delegation.
Later, Delegation level talks between Pakistan and United Arab Emirates held at Prime Minister house in Islamabad on Sunday.
Prime Minister Imran Khan led the Pakistani delegation while the UAE side was led by Crown Prince of Abu Dhabi Sheikh Muhammad bin Zayed Al Nahyan.
The Pakistan delegation included Foreign Minister Shah Mahmood Qureshi, Finance Minister Asad Umer, Information Minister Chaudhry Fawad Hussain, Minister of State for Interior Shehryar Khan Afridi and Foreign Secretary Tehmeena Janjua.
The two sides discussed bilateral relations and matters of mutual, regional and international interests.
Earlier, on his arrival at Nur Khan Airbase, Prime Minister Imran Khan welcomed the distinguished guest. He was given twenty one guns salute.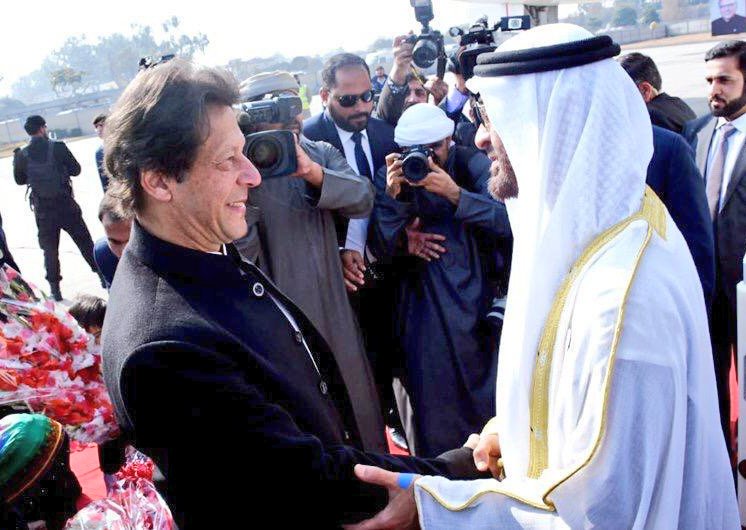 Later on, an official welcome ceremony was held at Prime Minister House Islamabad in the honor of the Crown Prince.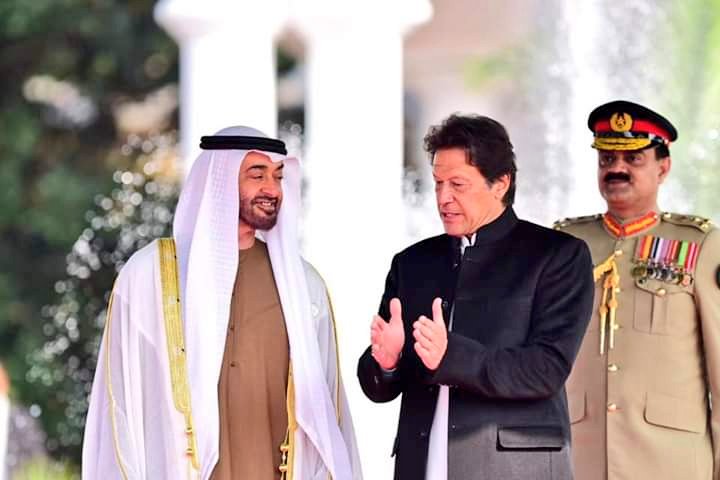 Minister for Information and Broascadsting Chaudhary Fawad Hussain has said that visit of Crown Prince of Abu Dhabi Sheikh Muhammad bin Zayed Al Nahyan will further strengthen relations between the two contries.
In a statement, he said the crown prince considers Pakistan as his second home.
Information Minister said talks about the establishment of oil refineray has been entered in the final statge.
Later, Crown Prince of Abu Dhabi Sheikh Muhammad bin Zayed Al Nahyan left for home.
Minister for Power Omer Ayub Khan saw off him at Nur Khan airbase.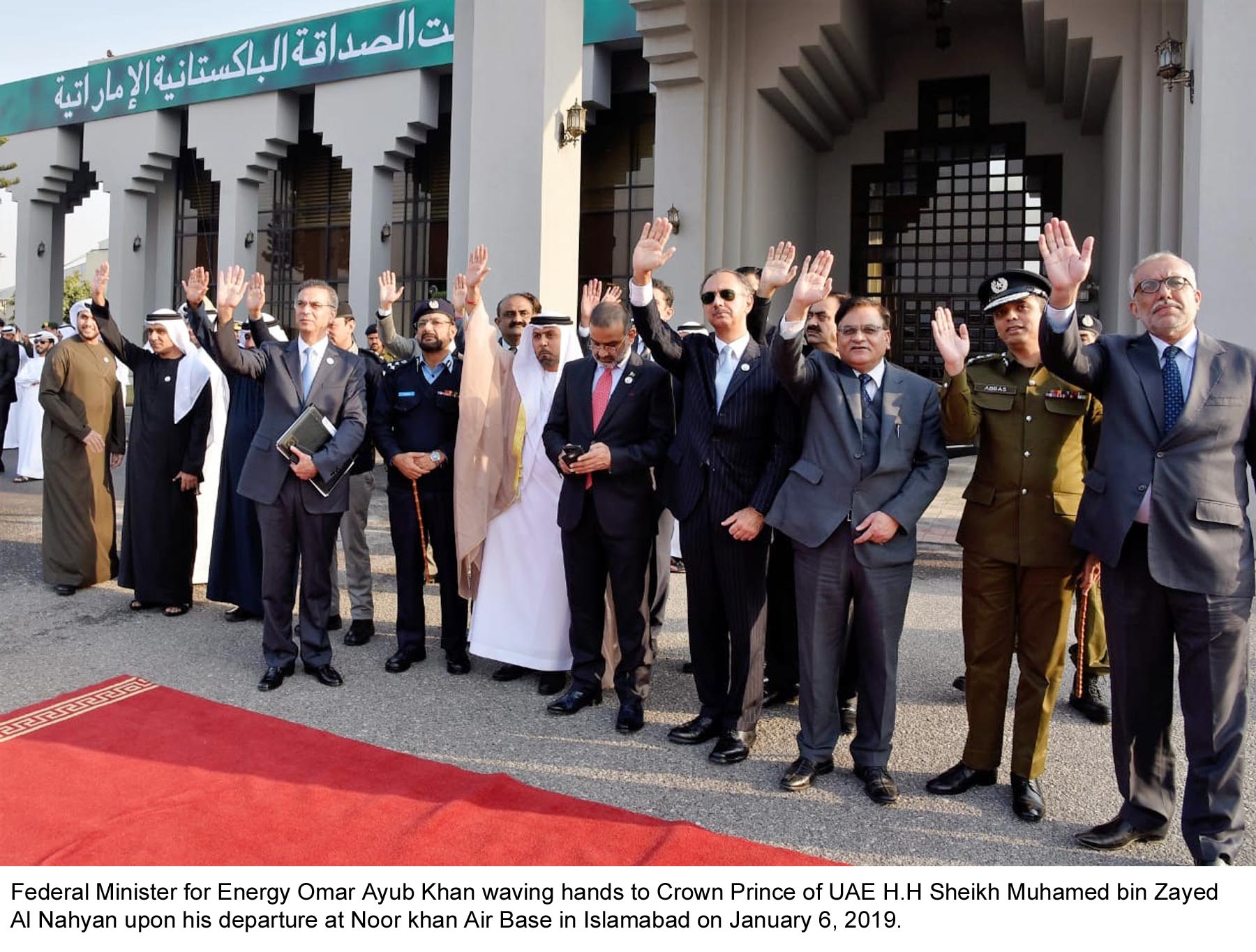 Special Assistant to Prime Minister on Media Affairs Iftikhar Durrani has thanked Crown Prince of Abu Dhabi Sheikh Muhamed bin Zayed Al Nahyan for visiting Pakistan.
In a tweet , he said the world knows that we have an honest leader now and that is why the UAE leader came to Pkistan after decades to have a business with the country.