Prime Minister Imran Khan says Pakistan is prepared to use its friendly relations to help lower tensions among brotherly countries and promote peace and stability in the region.
Talking to Foreign Minister of Iran Javad Zarif in Islamabad on Friday, he stressed that every effort should be made to resolve the issues within the framework of international law and through diplomatic engagement.
Prime Minister Imran Khan expressed satisfaction over excellent bilateral relations between Pakistan and Iran.
He underscored that early implementation of various decisions reached during his visit to Iran would further enhance cooperation in all areas.
Javad Zarif conveyed the best wishes of Iranian leadership to the Prime Minister.
Views were exchanges on facilitating movement of people and Zaireen through opening of new border points, promoting local trade activities and beefing up security along the Pakistan-Iran border.
Foreign Minister of Iran, Dr Muhammad Javad Zarif also called on Chief of Army Staff General Qamar Javed Bajwa at GHQ in Rawalpindi on Friday.
They discussed matters of mutual interest and evolving situation in the region.
On the occasion, Army Chief said that war is not in anyone's interest and all sides need to make efforts to keep conflict away from the region.
Iranian Foreign Minister appreciated Pakistan's positive role in regional peace and stability.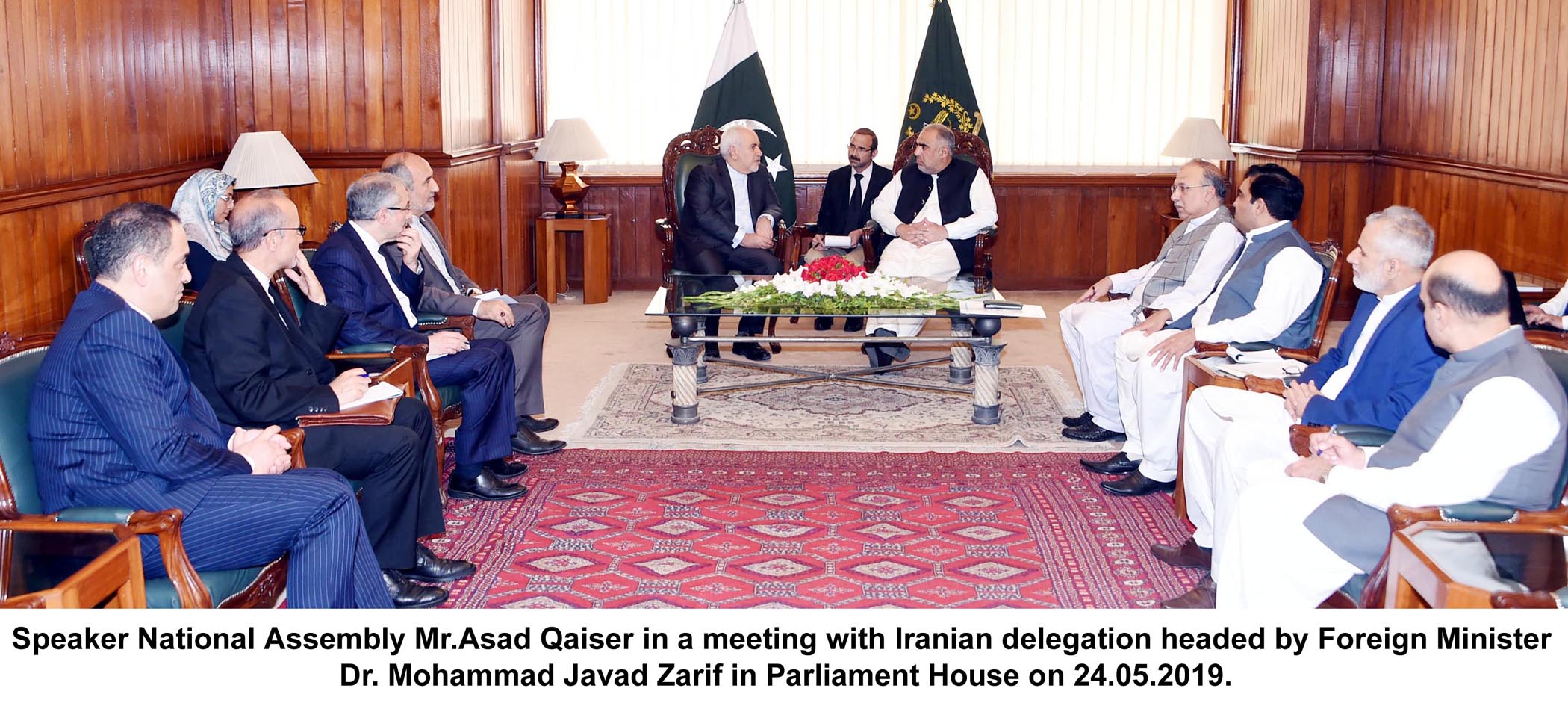 Iranian Foreign Minister Dr. Mohammad Javad Zarif called on Speaker National Assembly Asad Qaiser in Islamabad today and discussed ways and means to further intensify Pak-Iran bilateral relations besides forging unity amongst the Muslim Ummah.
The Speaker underlined the importance the people and government of Pakistan attaches to the long standing brotherly relations between the two countries.
He expressed his deep concern over the recent tension in the gulf region which poses a threat to regional peace and stability.
He reiterated Pakistan's support for Joint Comprehensive Plan, which represents an excellent example of negotiated settlement of complex issues through diplomacy and dialogue.
The Iranian Foreign Minister thanked the Speaker for his sentiments and said that Iran has special affection for their Pakistani brethren and strongly believes in the need for further strengthening of these relations.
He said continuous interaction between the political and parliamentary leadership from both countries would help further cement Pak-Iran relations.
He also thanked for diplomatic support of Pakistan extended to Iran, regionally and internationally.