President Dr. Arif Alvi has underlined the need for further enhancing bilateral cooperation between Pakistan and Tajikistan in different fields including security and counterterrorism.
Talking to Defence Minister of Tajikistan, Colonel-General Sherali Mirzo in Islamabad on Thursday, he expressed his pleasure that Defense and Security authorities of the two countries are cooperating closely for regional security and are exploring the possibility of establishing joint ventures for defense production in Tajikistan.
The President highlighted that our bilateral trade is not commensurate with the true potential and hoped that multiple Joint Working Groups will help strengthen our economic partnership.
He said bilateral relations between Pakistan and Tajikistan are rooted in common faith, history and shared values.
The President stated that Pakistan is introducing e-visa facilitation for about 175 countries and Visa on Arrival for 50 countries.
He hoped that Tajikistan will introduce visa easement processes for Pakistani businessmen to enable greater interaction.
He also appreciated Tajikistan's support to Pakistan's candidature for the membership of OIC's Independent Permanent Human Rights Commissioner.
He emphasized that Pakistan attaches great priority to timely completion of the flagship project of CASA-1000 and expressed the need for both sides to expedite the implementation phase of the project.
====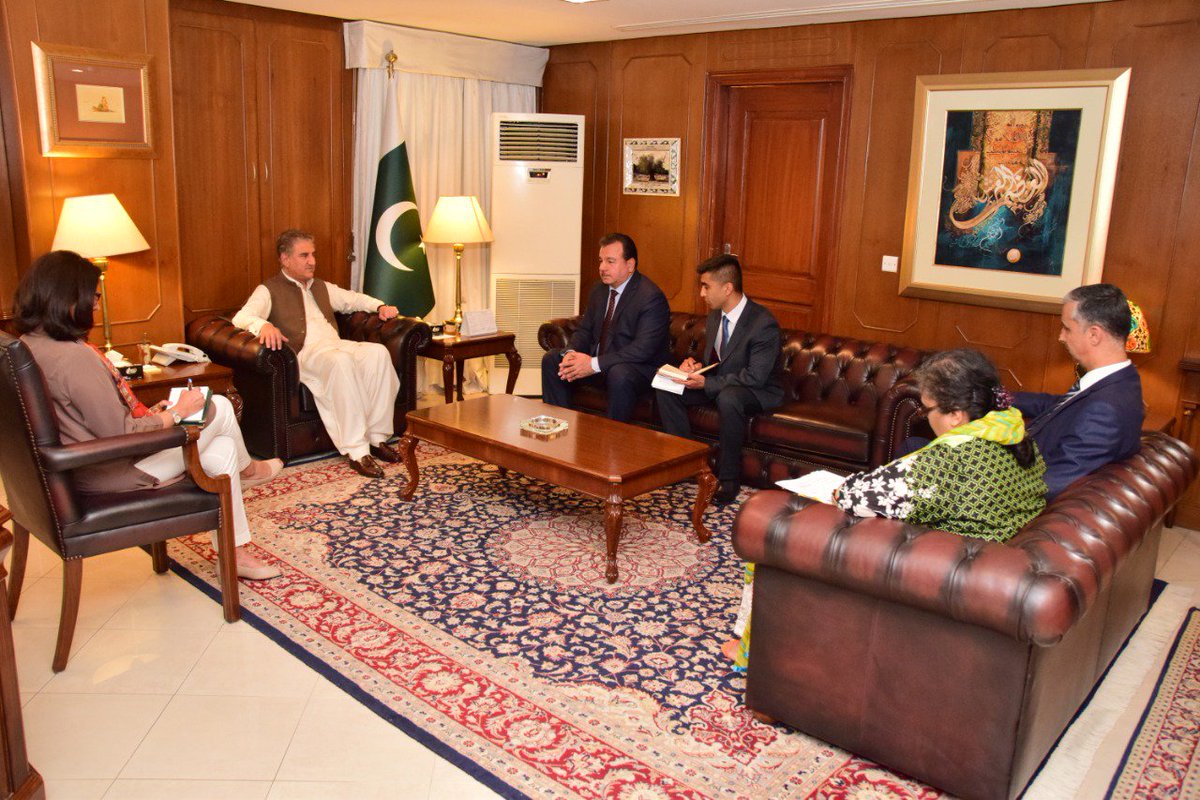 Foreign Minister Shah Mehmood Qureshi has underscored the importance of enhancing bilateral relations between Pakistan and Tajikistan.
He was talking to Defence Minister of Tajikistan Colonel Gen Sherali Mirzo who paid a courtesy call on him in Islamabad today.
The Foreign Minister emphasized that Pakistan desires strong ties with its neighbors and a peaceful neighborhood would benefit all.
Both sides expressed satisfaction on the steady growth of defense cooperation.
On behalf of the Tajik Foreign Minister, Sirodjidin Aslov, the Tajik Defence Minister extended an official invitation to Foreign Minister Qureshi to visit Tajikistan at his convenience.
====
The Tajikistan Defence Minister General Sherali Mirzo also called on Chief of Army Staff General Qamar Javed Bajwa at GHQ in Rawalpindi today.
During the meeting, regional security situation and matters of mutual interest including enhancement of bilateral defence and security cooperation were discussed.
The Tajik Defence Minister expressed his appreciation for Pakistan Army's professionalism and efforts towards regional stability.
The Army Chief said Tajikistan is a brotherly country and cooperation between Tajikistan and Pakistan will help improve peace and stability in the region.