Prime Minister Imran Khan will brief about the achievements of government in various sectors during the first hundred days on 29th of this month.
This was stated by Minister of Information and Broadcasting Chaudhry Fawad Hussain while giving a briefing on cabinet decisions in Islamabad this evening.
He said the landmark achievements in education, health, environment, management and other sectors during the three months are a record in history of the country.
Information Minister said the cabinet dilated upon the issue of tenure safety of senior bureaucrats in detail. A suggestion has been made that federal secretaries should be provisionally appointed for a period of six months at a ministry and after successful completion of that period, their appointment will be extended for two and half year. During this period they will not be transferred or removed from their positions.
He said Prime Minister Imran Khan firmly believes that bureaucracy should be free from any political interference.
The Minister said the appointment of bureaucrats should be linked with their performance and not political connections.
He said the cabinet has decided to form a cabinet committee headed by Shehzad Arbab, to look into the affairs of tenures of bureaucrats and present its suggestions to the cabinet.
Other members of the Committee will be Defense Minister Pervez Khattak, Railways Minister Shaikh Rasheed Ahmad, and Prime Minister's Advisor on Institutional Reforms Dr. Ishrat Hussain.
The Minister said the cabinet took decision about the rehabilitation of 193 state-owned enterprises by deciding to incorporate Sarmaya Pakistan Company. Prime Minister will head the Board of Governors of this company while three ministers will be its members. Top professionals from various fields will be hired to become part of Board of Governors.
It will look into the affairs of all State Owned Enterprises and will give suggestions to cabinet for running these on professional lines.
Chaudhary Fawad Hussain said the cabinet also discussed the case of Afsheen Baksh, a Danish woman of Pakistani descent, whose two daughters were forcibly brought to Pakistan against the ruling of a Danish court. It has been decided that a barrister will do preliminary inquiry and then final decision will be made regarding the minor girls' stay in Pakistan or repatriation to Denmark, as we respect the decisions of foreign courts.
The Minister said the cabinet also decided that all Pakistani prisoners incarcerated abroad will be given legal assistance as looking after their interests is responsibility of the government.
He said the government is also committed to bring Dr. Aaafia Siddiqui back to the country and all necessary efforts will be made in this regard.
He said the cabinet decided to defer the budget of National Technology Council, till its approval by Economic Coordination Committee.
Fawad Chaudhary said the cabinet decided to centralize the process of procurement of equipment for e-governance which was earlier devolved to ministries.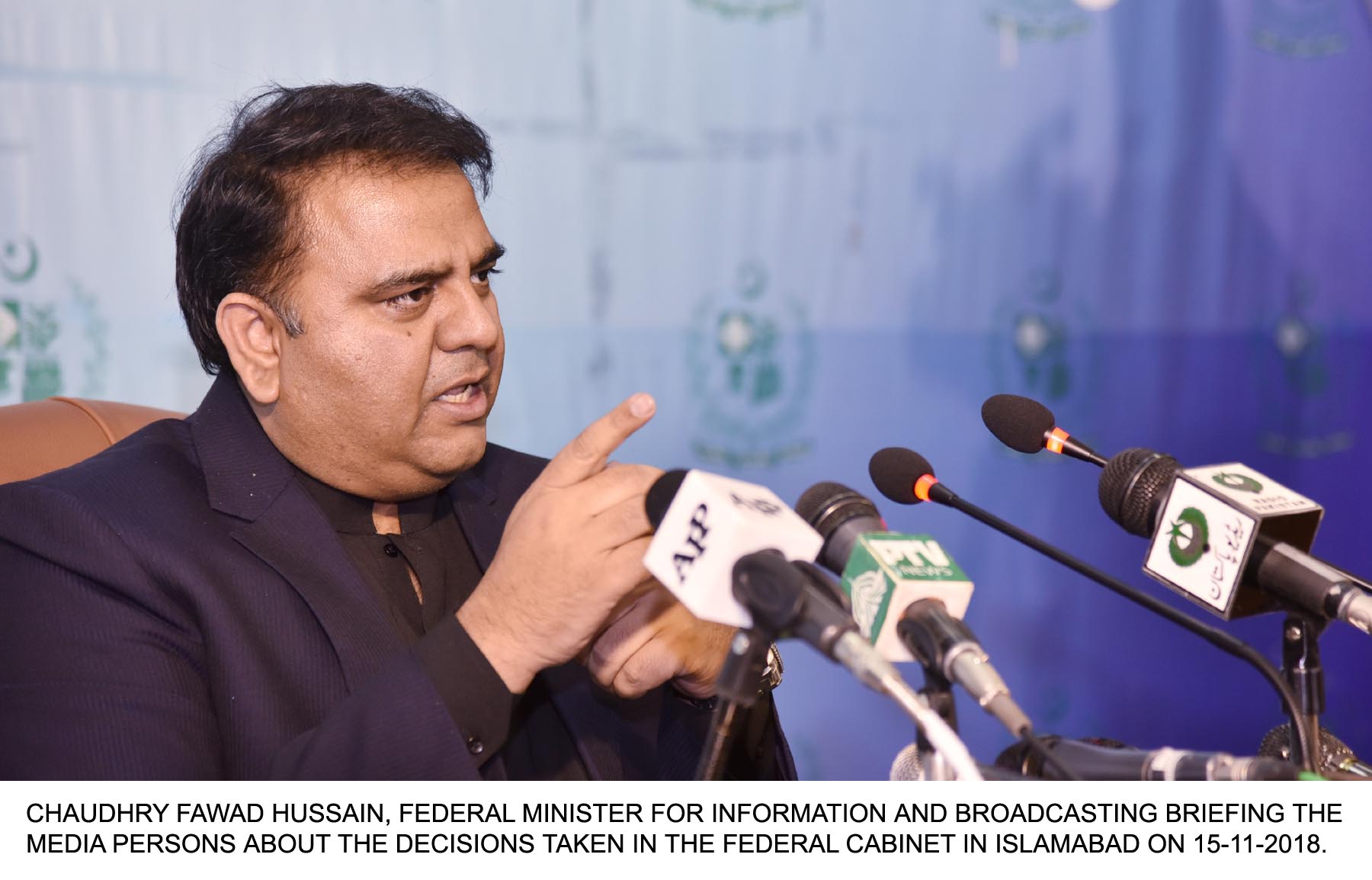 The Information Minister said the cabinet decided to give acting charge of PTDC to Ijaz Khan besides giving approval of appointment of the Commissioners of SECP.
Cabinet took into consideration the issues faced by Urea sector and decided to import 50,000 tons urea to meet its shortfall. The cabinet decided not to change the price of wheat that is 1300 rupees per maund.
Cabinet also decided to release all the outstanding amounts to media organizations on federal level, in order to provide them an immediate relief.
The Information Minister urged media organizations to redo their business models as it is not the job of government to give business to media and help them running.
Fawad Chaudhary said the cabinet also discussed the ruling of Chairman Senate and Prime Minister expressed dissatisfaction on the issue.